We invite you to worship with us and to give us feedback as to how well we are doing at honoring our mission and vision.
Christ Church of Peace is determined not to become a religious "business". We want our focus to be worship and ministry. It is our belief that offerings are not given to keep a church, as an organization, alive; but rather to help provide for ministry needs.
Christ Church of Peace is committed to giving to the community. It is our desire to be a vital and active supporter of the community. We provide ongoing financial support to a variety of community interests; i.e., the homeless, the hungry, veterans, the elderly, children, those with special needs/challenges, animals. 
Our Vision: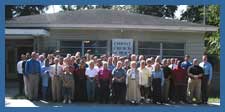 Christ Church of Peace will be best known  for innovative ministry in service to God, and will be the church of choice for all people seeking a spiritual home. We will be a role model for others to follow, growing stronger though diversity … and becoming a tool for social change.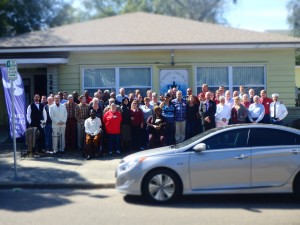 ON NOVEMBER 19, 2017 CHRIST CHURCH OF PEACE CELEBRATES 17 YEARS OF MINISTRY AND WORSHIP IN THE JACKSONVILLE COMMUNITY.
Our Guiding Principles:
At Christ Church of Peace, we believe:
God, who is known by many names, is our higher power and our divine presence.
Jesus the Christ was in unique relationship with God. Jesus' life and teachings serve as a model and as instruction for us to follow in our human relationships and in our relationship with God.
We are not human beings having a spiritual experience but, rather,spiritual beings having a human experience.
The Bible is a book of divinely inspired human authorship. The Old Testament section of the Bible is primarily the written story of the Hebrew people's understanding of their relationship with God and how they believed God worked and intervened in their life. The New Testament section of the Bible contains the life and teachings of Jesus. Further, it describes the beginnings of the Christian church. The Bible contains spiritual principles that can enhance individual lives, life in community, and relationship with God.
Love is supreme and takes precedence over all religious doctrine, creeds, writings, beliefs, liturgies, and dogmas. We come to this understanding through the teaching of Jesus as found in Matthew 22:36-40, Mark 12:28-31 and Luke 10:25-28. Jesus' teaching clearly states that loving God and loving others is the foundation of all religious writing and law; and further, it is through loving God and others that one experiences more meaningful life now and in the afterlife. As well as teaching love, Jesus served as a model of love. He is recorded as saying in John 13:34-35, "A new commandment I give to you, that you love one another; even as I have loved you, that you also love one another. By this all people will know that you are my disciples, if you have love for one another."
It is possible, as long as love is practiced, for people of differing understandings and beliefs about God and Jesus to sit at the same table and to worship in the same religious/spiritual community. This diversity of belief and practice provides for challenging worship and ministry, as well as for spiritual growth and discovery.
All religions and faiths that teach and practice love as the core of their belief system are authentic.
---
Spoken at the ICCC Conference 2012: "We are united without being uniform. In relationship without competition for power. Celebrating oneness in Christ."
"Believe It or Not" …
There are some that say you can't be LGBT and Christian at the same time. Of course the Bible has been and still is used to condone a lot of prejudice, bigotry, hate, and war.
Thankfully, over the years the majority of people have come to understand the words given to the young pastor Timothy in  2 Timothy 2:15  can be prescribed to all in this day where most can read  and have a reasonable education "15 Do your best to present yourself to God as one approved, a worker who does not need to be ashamed and who correctly handles the word of truth."